Chipotle Black Bean Burgers are a scrumptious and satisfying plant-based alternative to traditional beef burgers packed with flavor, protein, and fiber. And these won't fall apart!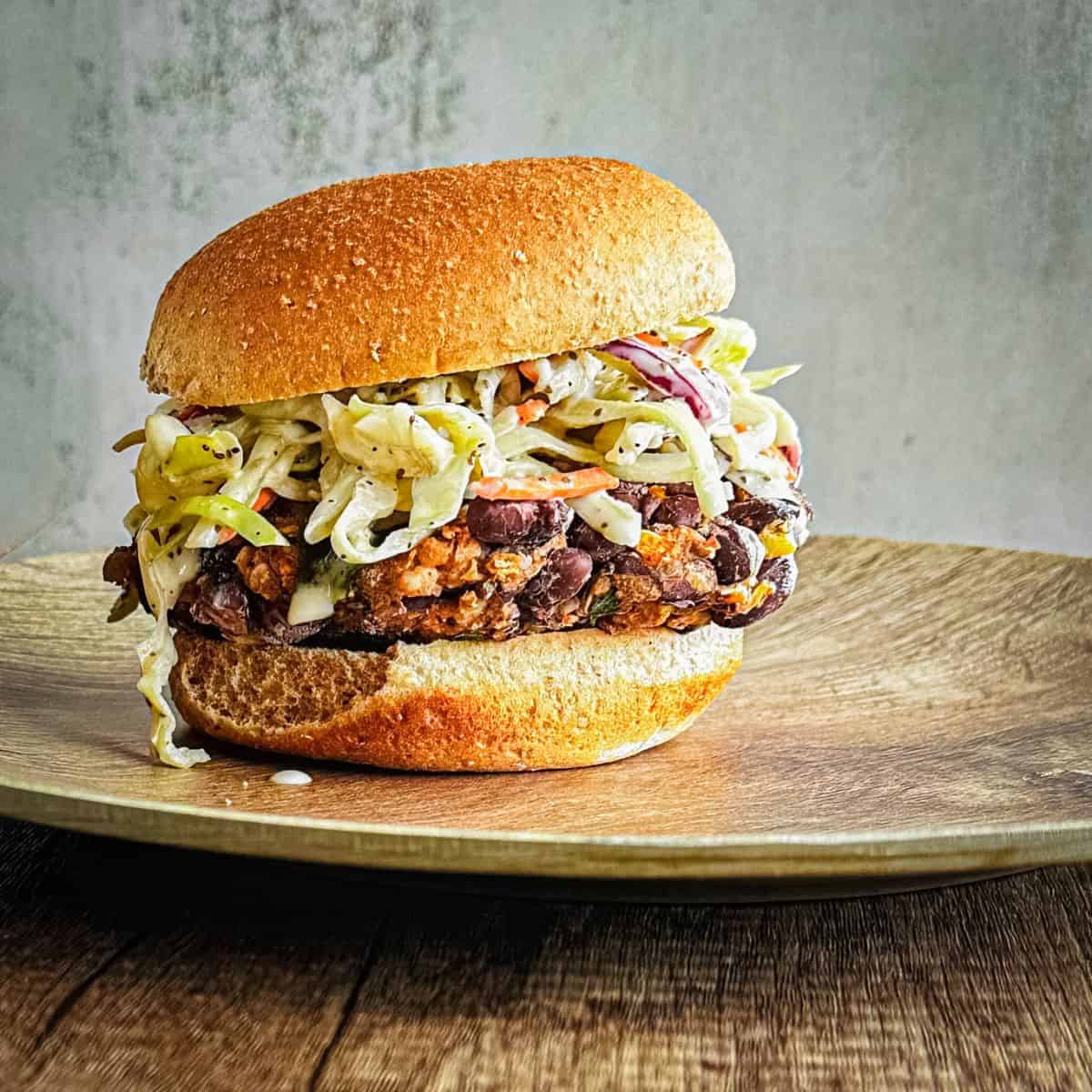 Jump to: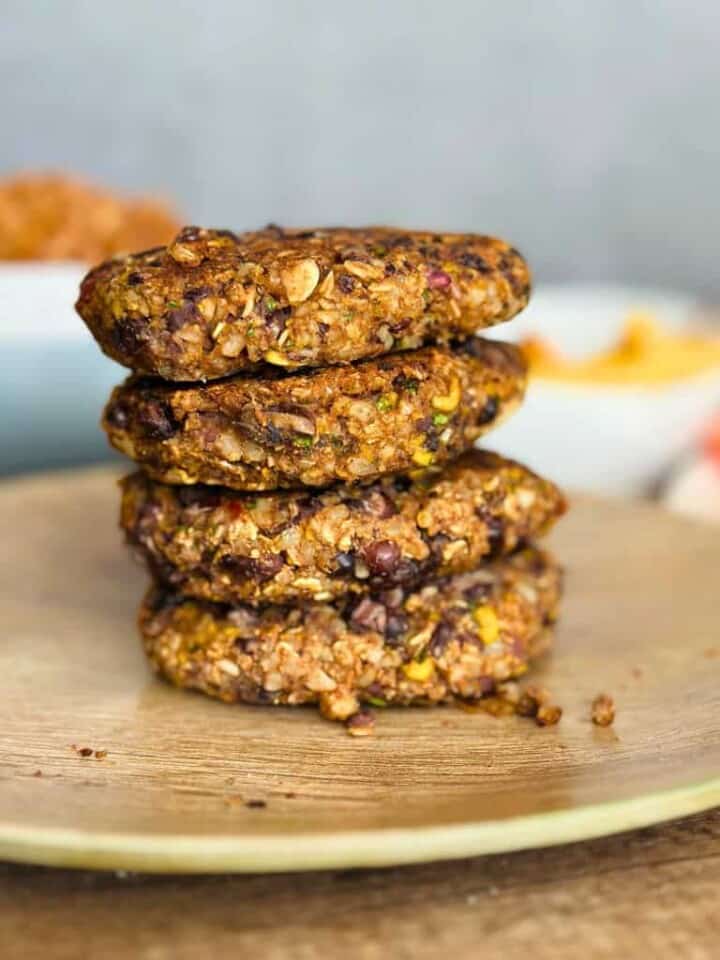 Why you'll love this chipotle black bean burger
this bean burger does not fall apart while cooking!
filled with healthy, wholesome ingredients
they're easy to prepare
packed with flavor
this black bean burger is super filling and satisfying
What you'll need to make black bean burgers
black beans
brown rice
red onion
oats
corn
fresh cilantro
garlic
chipotle pepper in adobo sauce
ground cumin
smoked paprika
salt (adjust to taste)
black pepper
olive oil (for cooking)
Instructions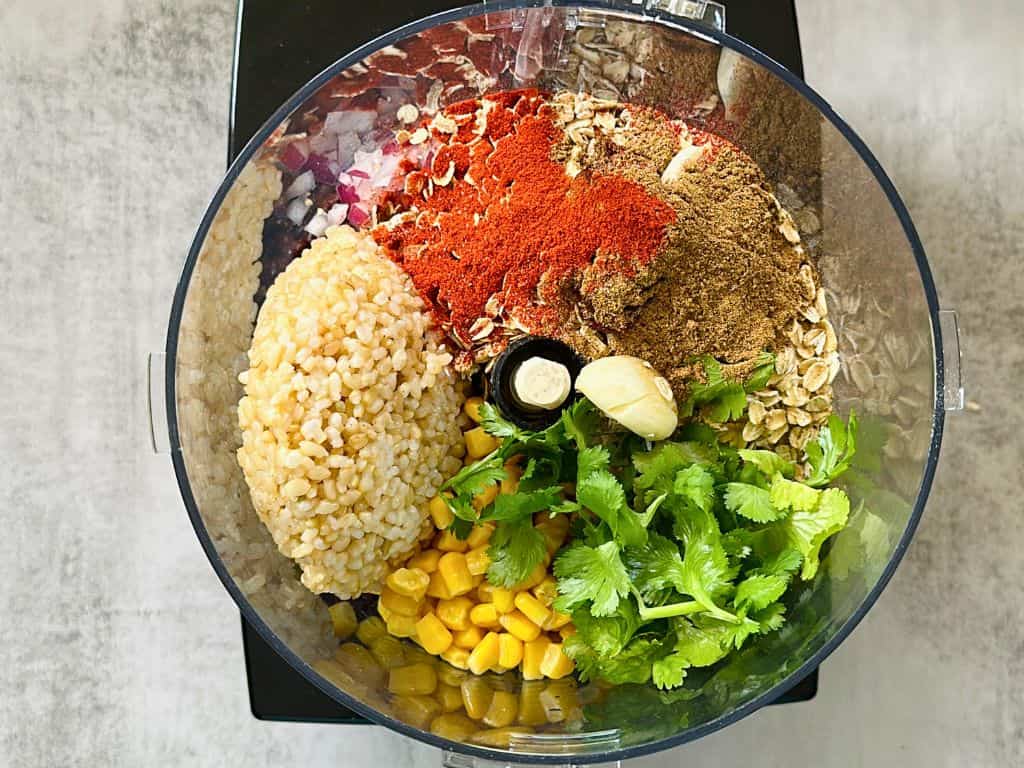 Time needed: 20 minutes
Make delicious homemade black bean burgers in just a few simple steps!
Step 1 - Making the bean mixture

Add half the beans and the rest of the ingredients to a food processor. Pulse a few times until you get a crumbly texture. Do not over-mix. It should still be chunky but mixed enough to mold a patty.

Step 2 - Mix in the remaining beans

Add the rest of the beans and mix in gently.

Step 3 - Mold the patties

Grab 150- 160 grams of the mixture (the size of a tennis ball) and mold it into about half-an-inch-thick patties.

Step 3 - Cook the patties

I recommend getting the pan hot before adding the burgers to get crispy outside. Cook the black bean burger patties in olive oil until golden brown, about 4-5 minutes on each side.


Step 4 - Add the toppings

Serve on your favorite buns with your favorite toppings for a tasty and satisfying meal. I highly recommend using the Easy Chipotle Pepper Sauce with this burger!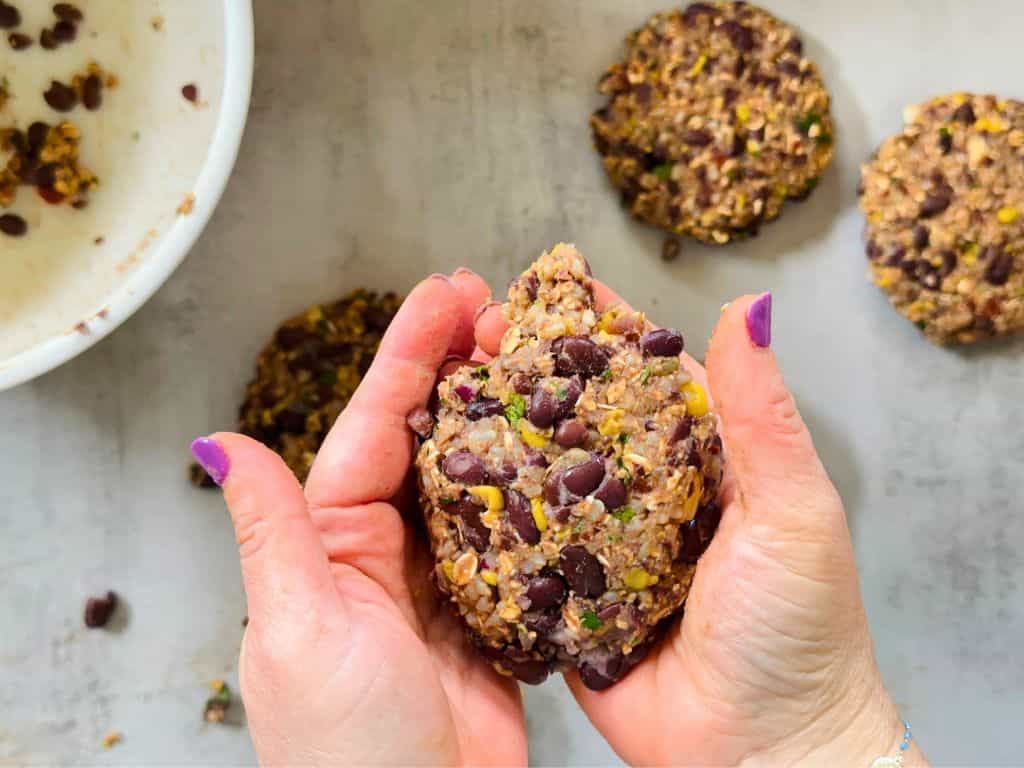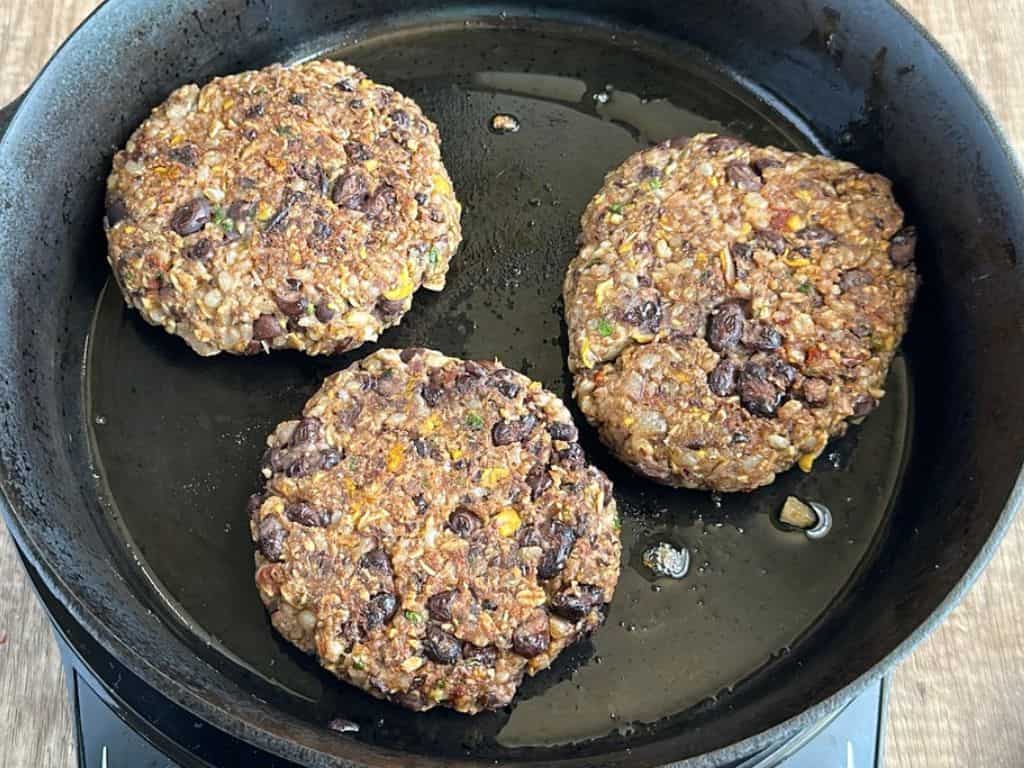 These burgers can be grilled as well. If grilling, lightly oil the grill grates and cook the patties for about 4-5 minutes on each side over medium-high heat.
Recommended toppings for this burger
For a classic burger, use:
Other topping ideas
Sautéed Mushrooms
Caramelized Onions
Jalapenos
Pico de Gallo
Crispy Onion Rings
Vegan Cheese
Coleslaw
Fresh Cilantro
Sriracha or Hot Sauce
Vegan Bacon
Grilled Pineapple
The best burger bun for a chipotle black bean burger
It can be easy to overlook the importance of choosing the right bun for your veggie burger. It must be sturdy enough to hold the patty and toppings without falling apart and soft enough to compliment the burger's texture. Here are a few ideas:
Whole Wheat, Whole Grain, or Seeded Buns: These buns provide a hearty, nutty flavor that pairs well with the smoky chipotle black bean patties. They also offer added fiber and nutrients compared to white buns.
Vegan Brioche Buns: For a slightly indulgent option, brioche buns add a touch of sweetness and a soft, buttery texture that contrasts beautifully with the savory and spicy flavors of the chipotle black bean burgers. You can find them vegan at Whole Foods.
Pretzel Buns: Pretzel buns have a unique chewy texture and a slightly salty crust, which can elevate the overall taste of the burgers.
Ciabatta Buns: Ciabatta buns are rustic and crusty, contrasting the tender black bean patties.
Lettuce Wraps: For a low-carb or grain-free alternative, use large lettuce leaves, such as butter lettuce or romaine as a wrap to encase the Chipotle Black Bean Burgers.
Serving suggestions
Southwestern Fiesta
Create a Southwestern-inspired Chipotle black bean burger by adding sliced avocado, roasted corn, and jalapenos to the burger patty.
Drizzle some lime juice or tangy habanero salsa for a burst of freshness and zesty flavor.
Tex-Mex Twist
Top the burger with a generous spoonful of vegan queso or nacho cheese sauce for a creamy and cheesy Tex-Mex touch.
Add some crushed tortilla chips to the cheese sauce for a delightful crunch. This might sound strange but my kids love it.
BBQ Bliss
Brush the burger buns with your favorite vegan BBQ sauce for a sweet and smoky taste.
Add a layer of caramelized onions and BBQ mushrooms on top of the burger patty for extra richness.
Hawaiian-Inspired
Add a slice of grilled pineapple to the Chipotle black bean burger for a tropical touch.
Tips
Properly drain and rinse the beans: Make sure to drain and rinse the black beans thoroughly before using them in the recipe. This helps remove excess starch and sodium, ensuring a better burger texture.
Mash only half the beans: Only use about half of the black beans when putting everything in the food processor. Keeping some whole beans adds texture to the final burger.
Toast the buns: For an extra touch of deliciousness, lightly toast the burger buns before assembling the burgers. It adds a nice crunch and enhances the overall experience.
Use a cast iron skillet if you have one: They create a perfect sear on the outside of the burgers, resulting in a delicious crispy crust.
Side dish suggestions
Potato salad pairs great with veggie burgers.
Fries are a timeless favorite, but if you want to indulge without the guilt, Air Fryer Fries are the answer for a healthy, homemade classic.
Slow-cooked baked beans can feed a large crowd and taste even better when made ahead of time and reheated.
Vegan coleslaw is a perfect side dish for burgers with a crunchy texture that stands up to bite after bite.
Put out an array of vegetables like celery sticks, carrots sticks, cherry tomatoes, snap peas, and broccoli florets with a dipping sauce such as ranch or hummus on the side for extra flavor and nutrition!
How to store veggie burgers
You can freeze the uncooked Chipotle Black Bean Burger patties for later use. After shaping the patties, place them on a parchment-lined baking sheet and freeze until solid.
Once frozen, transfer the patties to a freezer-safe container or zipper storage bag, separating them with parchment paper to prevent sticking. They can be kept in the freezer for up to 3 months. To cook, thaw the patties in the refrigerator overnight before cooking in a pan or oven.
If you have leftover cooked veggie burgers, allow them to cool completely before storing them. Place the burgers in an airtight container and refrigerate for 3-4 days. To reheat, microwave them for a few seconds, put them in an air fryer, or warm them in a skillet over medium heat until heated.
FAQs for Chipotle Black Bean Burger
Are these burgers spicy?
The level of spiciness in the Chipotle Black Bean Burgers can be adjusted to your preference. The recipe includes canned chipotle peppers in adobo sauce, which gives the burgers a smoky and spicy flavor. If you prefer a milder taste, you can reduce the amount of sauce or the size of the pepper or omit it altogether.
How can I make this black bean burger recipe gluten-free?
These burgers are gluten-free. Ensure all other ingredients you use, including the buns, and adobo sauce, are gluten-free.
Can I grill these burgers instead of pan-frying them?
Yes, you can grill the veggie burgers for a smoky flavor. Preheat your grill to medium-high heat and lightly oil the grill grates. Cook the burger patties for approximately 3-4 minutes on each side or until they develop grill marks and are heated through.
Can I use other types of beans instead of black beans?
While black beans provide a great texture and flavor for this recipe, you can experiment with other types of beans, such as kidney beans, pinto beans, or chickpeas. Each bean will lend a slightly different taste and texture to the burgers, allowing you to customize them to your liking.
Can I make the burgers oil-free?
If you prefer to avoid using oil for cooking, you can try baking the burger patties instead of pan-frying. Place the patties on a parchment-lined baking sheet and bake in a preheated oven at 375°F (190°C) for about 20-25 minutes, flipping them halfway through baking. The baking time may vary, so keep an eye on them to prevent overcooking.
Related links
Your culinary expertise and commentary are highly sought after, so don't forget to leave a comment and rate it with stars. Follow us on Instagram, Facebook, and YouTube.
Print
Chipotle Black Bean Burgers
This Chipotle Black Bean Burger recipe is a scrumptious and satisfying plant-based alternative to traditional beef burgers. Packed with protein, fiber, and a smoky kick of chipotle flavor, these homemade burgers will become a family favorite.
Total Time:

20 minutes

Yield:

8

burgers

1

x
3 cups

black beans (2

15 ounces

cans, drained and rinsed; divided)

2 cups

brown rice (cooked)

1 cup

oats

½ cup

corn

¼ cup

red onion (finely chopped )

¼ cup

fresh cilantro (chopped )

2

cloves garlic (minced)

1

-

2

chipotle peppers in adobo sauce (add a teaspoon or

two

of the sauce from the can if you want it spicier.)

2 teaspoon

ground cumin

1 teaspoon

smoked paprika

1 teaspoon

salt (adjust to taste)

½ teaspoon

black pepper

1 tablespoon

olive oil (for cooking)
Instructions
In a food processor, combine half of the black beans with all of the ingredients. Pulse until crumbly, careful not to over mix until smooth.

Place mixture into bowl. Add the remaining whole black beans to the bowl and mix.

Mix all the ingredients until well combined. The mixture should be slightly sticky and hold its shape when formed into patties.
Divide the mixture into equal portions (about 150-160 grams or the size of a tennis ball) and shape them into burger patties, about ½ to ¾ inch thick.

Heat olive oil in a large skillet over medium heat. Once hot, add the black bean patties to the skillet. Cook 4-5 minutes on each side until they develop a golden-brown crust.

Remove the black bean burgers from the skillet and place them on a plate lined with paper towels to absorb any excess oil if necessary.
Serve the black bean burgers on your favorite buns with toppings like lettuce, tomato, avocado, sliced red onion, and a dollop of chipotle pepper sauce or guacamole. See post for ideas. Enjoy!

Notes
Nutritional information is only an estimate
. Use a nutritional app like 
Cronometer
to get information on the exact ingredients and amounts you are using.
If you want bigger pieces of corn in the burger, leave it out of the food processor and incorporate it into the mixture when you add the whole beans.
Ensure you mince the garlic and finely chop the onions before adding them to the food processor. This way, the small pieces will allow you to pulse the mixture only a few times without turning everything into a smooth blend.
For a nice and crisp exterior, ensure that the pan is hot before placing the burgers on it.
If you use a cast iron pan, these burgers will crisp up really well.
Recipe time assumes the brown rice is already prepared.
See storage instructions in post.
Author:

Regi Pearce

Prep Time:

10 minutes

Cook Time:

10 minutes

Category:

main course

Cuisine:

American
Nutrition
Calories:

328

Sugar:

1

Sodium:

296

Fat:

4

Saturated Fat:

1

Carbohydrates:

62

Fiber:

9

Protein:

11
Keywords: black-bean patty, healthy bowls, homemade, plant-based burger, vegan burger, vegetarian burger