This easy walnut taco meat is absolutely delicious! It's crumbly, packed with flavor, and makes a fantastic replacement for traditional ground beef in your next tacos!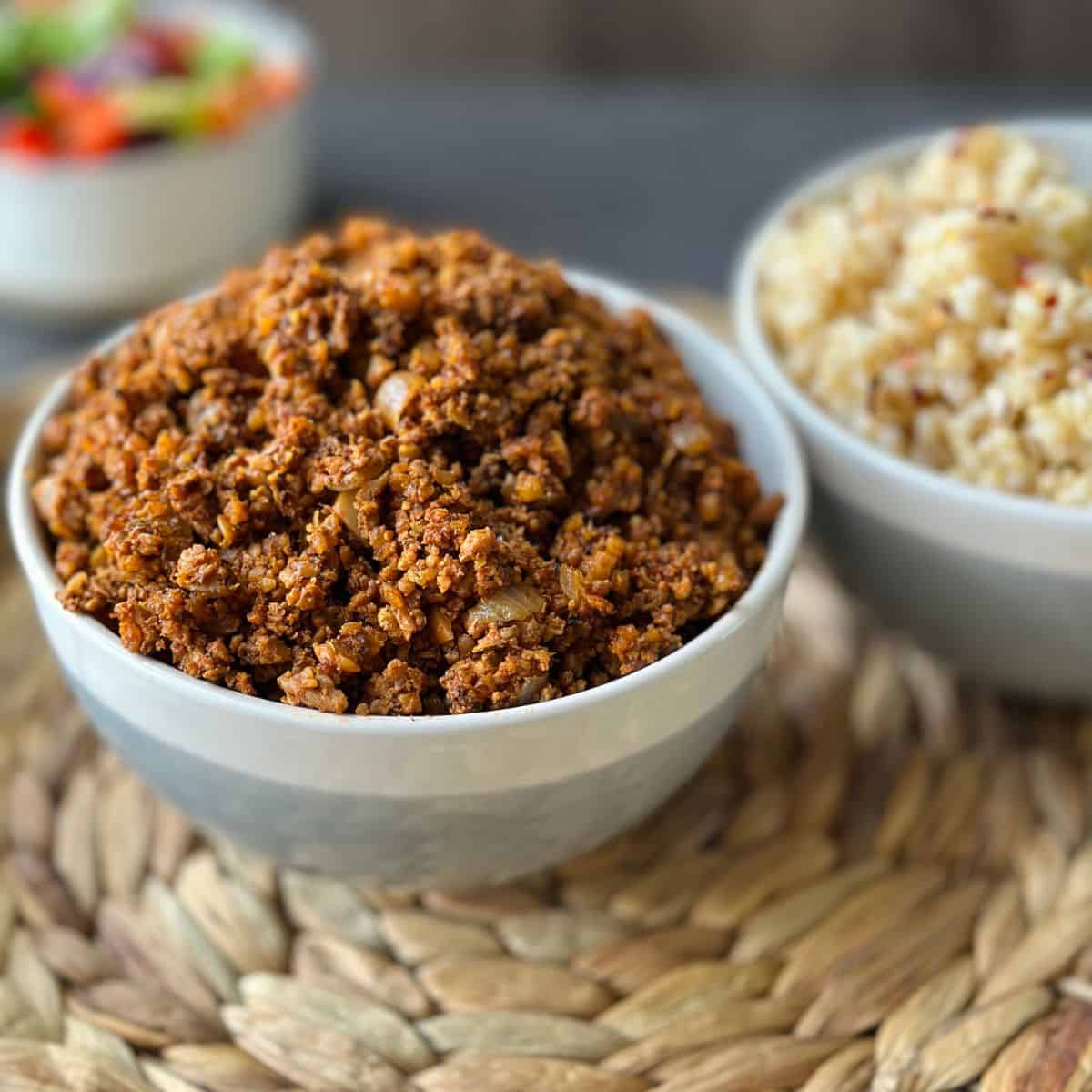 Jump to:
What is vegan walnut meat?
You might be thinking, "What the heck is vegan walnut meat?"
This is a healthy fat, satisfying, and flavorful alternative to traditional meat that combines walnuts and mushrooms and can be used in various dishes. I know it sounds baffling, but trust me, walnuts and mushrooms can actually work wonders as a substitute for ground beef. When all is done, this recipe has a similar look with a slightly less chewy texture, making it a fantastic alternative. With the right spices, it's a total game-changer and makes for a great homemade alternative to processed veggie crumbles.
While this recipe features delightful Mexican-inspired spices and flavor, I have included suggestions below for various spice combinations that complement other cuisines.
I was initially skeptical about this healthy alternative, plant-based meat – how can using walnuts or combining mushrooms and walnuts give a meat-like texture? It was surprising when I finally tried it at a restaurant and loved it. I knew I had to make it at home, and it didn't disappoint.
Why you'll love this recipe
easy to make with minimal prep time
versatile (use it in a variety of meals)
nutrient-dense, whole food, soy-free, and gluten-free
customizable (see below for ideas)
easy to batch cook for your weekly meal prep
great for amazingly delicious plant-based lunchboxes
it's savory and meat-like texture is incredibly satisfying
this is a great meat alternative for people following vegetarian, vegan, plant-based, dairy-free, and gluten-free diets. Plus, it's perfect for those who want to cut down on meat.
If you're not a fan of mushrooms or a loved one says they'll pass on this meal, I promise you won't be able to detect their taste or texture since they are finely chopped.
The mushrooms help to bulk up the recipe while keeping the fat lower than other recipes that only use walnuts. But, if you prefer to avoid mushrooms altogether, replace them with cooked lentils.
What can I use walnut taco meat for?
For this recipe, we serve walnut taco meat in tacos. You can serve it in soft or hard taco shells, corn tortillas, or lettuce wraps. Here are some other ideas:
Black Bean Tostadas - top with Mango Habanero Salsa, guacamole, shredded lettuce, diced tomatoes, and a squeeze of lime.
Power Salad Bowl - Create a nourishing bowl by combining roasted sweet potatoes or brown rice, favorite greens, steamed broccoli, avocado slices, a drizzle of Vegan Avocado Crema, and topped with the taco walnut meat.
Mexican-Ispired Grain Bowl - Toss this vegan walnut meat with yellow rice, roasted peppers, and onions, and top with a delicious easy chipotle pepper sauce.
Nachos - Serve it with Easy Vegan Nachos to impress everyone with your easy vegan recipes and cooking.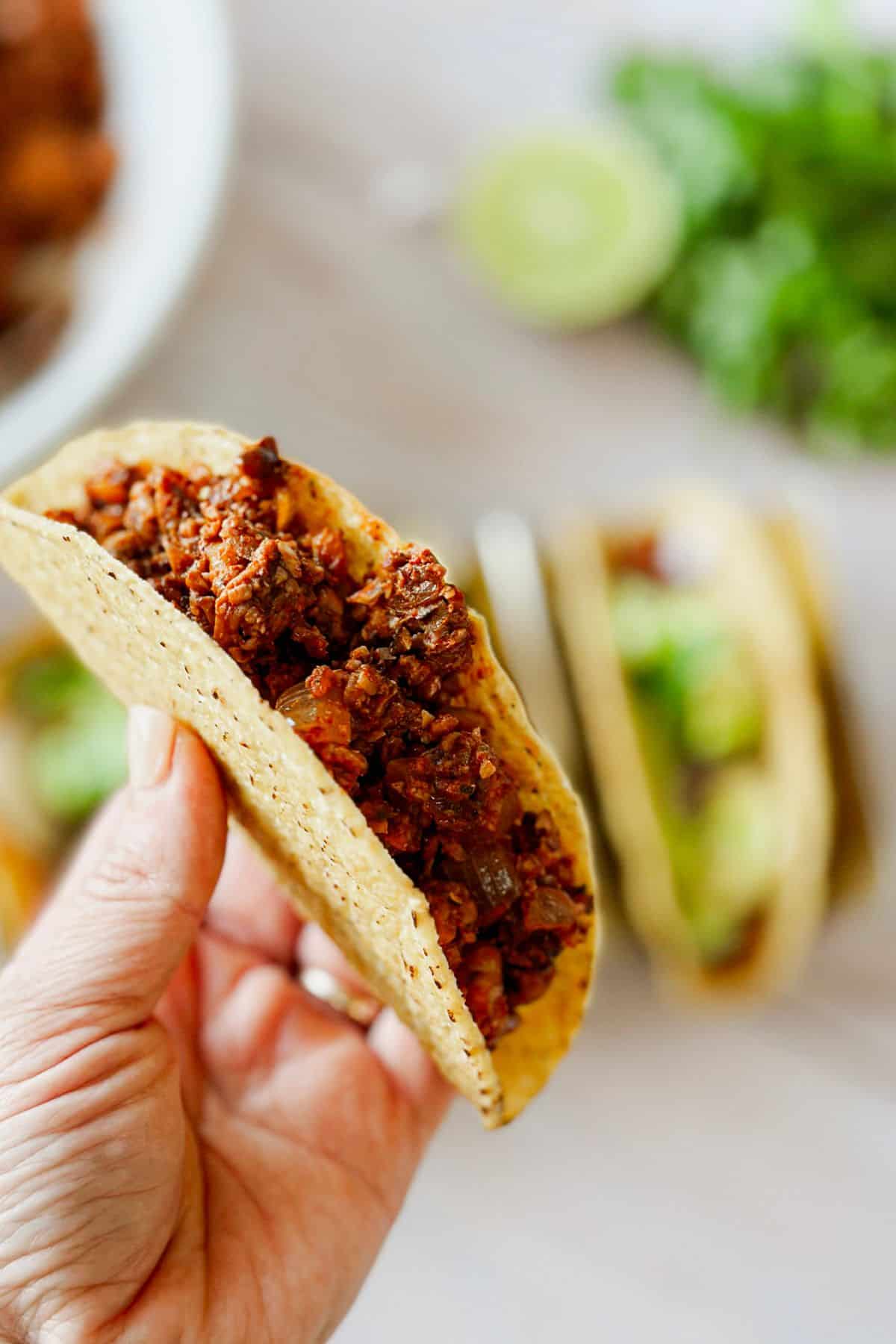 Equipment
I highly recommend using a food processor to finely chop the mushrooms and walnuts. You won't get the same fine chop with a knife unless you are an experienced chef. And it makes the food prep much easier and quicker!
How to make vegan walnut taco meat with mushrooms
Gather these easy-to-find ingredients
walnuts
mushrooms (any variety; I buy the 12 oz pack of shitakes from Costco)
olive oil
onion
garlic
chili powder
cumin
smoked paprika
oregano
salt
pepper
Easy to make in 4 steps and ready in less than 20 minutes.
Step 1 - Prepare the mushrooms and walnuts
In a food processor, pulse the mushrooms until they resemble a crumbly texture. Take care not to over-mix them. Once complete, remove and set aside. Do the same for the walnuts, but do not process both items simultaneously since this could lead to over-processed mushrooms.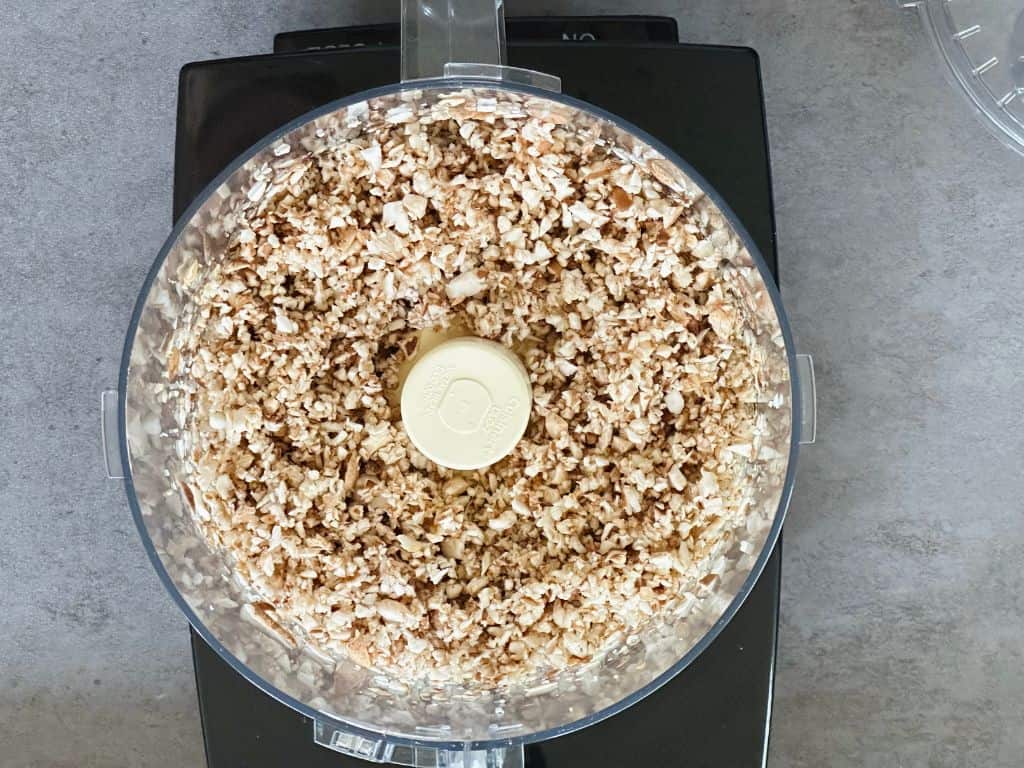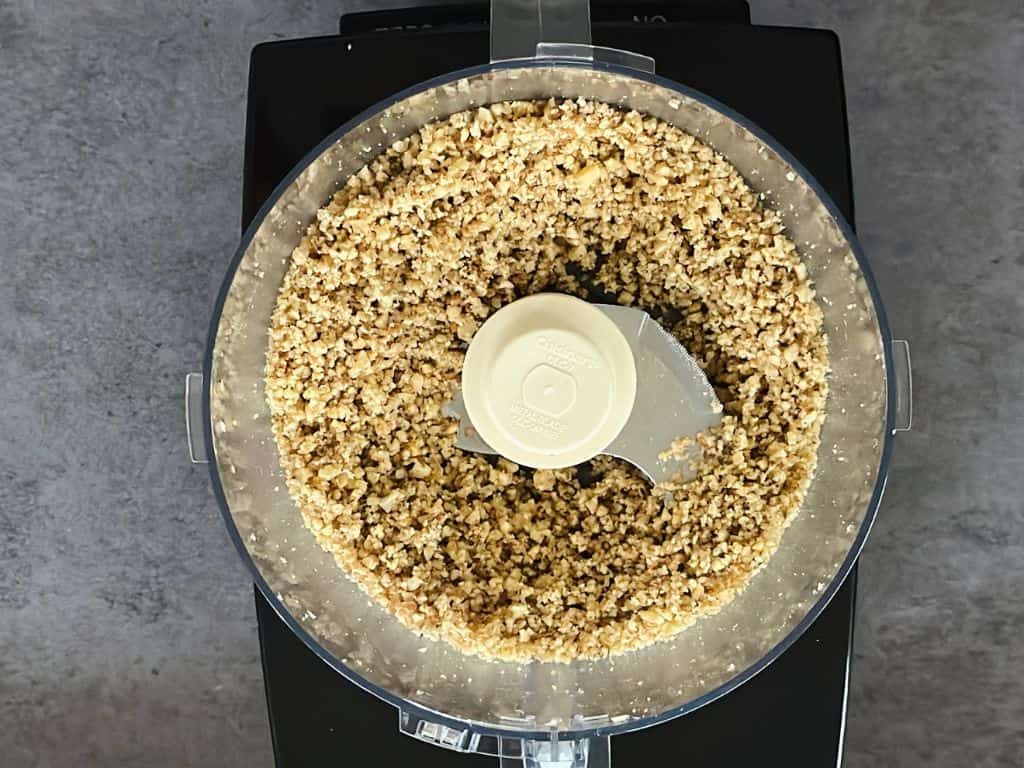 Step 2 - Saute the aromatics and mushrooms
Saute the onions, garlic, and mushrooms. Then, add and cook the mushrooms until they release moisture and are soft.
Step 3 - Add the spices
Mix well to evenly coat the mushrooms and onions with the spices.
Step 4 - Add the chopped walnuts
Mix everything thoroughly. Continue cooking for 5 minutes, allowing the flavors to combine and the walnuts to absorb the seasonings. Taste and adjust seasoning.
Do you want variety?
The base for this recipe includes walnuts, mushrooms, onions, and garlic.
While this recipe complements Mexican-inspired cuisine well, you can substitute the spices with other flavors for other cuisine variations. Here are some suggestions (adjust spice quantities to your liking):
Italian-Inspired: Incorporate dried basil, oregano, thyme, garlic powder, and a pinch of red pepper flakes for an Italian flair. This blend complements pasta dishes, lasagna, or stuffed mushrooms.
Mediterranean-Inspired: Use a mix of dried oregano, basil, rosemary, garlic powder, and a squeeze of lemon juice to create a Mediterranean profile. Ideal for dishes like Greek-inspired wraps, stuffed bell peppers, or Mediterranean-style burgers.
Smoky BBQ: Combine smoked paprika, cumin, garlic powder, onion powder, and a hint of brown sugar for a smoky and sweet barbecue taste. Perfect for BBQ sandwiches, burgers, or loaded baked potatoes.
Asian Fusion: Incorporate soy sauce, ginger powder, garlic powder, Chinese five-spice powder, and a touch of sesame oil for an Asian-inspired flavor. This blend pairs well with stir-fries, lettuce wraps, or noodle dishes.
Herbed Delight: Mix dried parsley, thyme, sage, rosemary, and a dash of garlic powder for herb-infused 'meat'. Incorporate this into savory pies, stuffed vegetables, or grain bowls.
Try walnut meat in this variation of Cuban-inspired Vegan Picadillo if you're craving a meaty texture without the meat.
FAQs
Can I use this meat substitute in stews like chili or make meatballs and burgers?
It's not recommended to use walnut taco meat in other recipes that require modifications. It doesn't hold up well in any of those recipes.
Q: Can I freeze vegan walnut and mushroom meat?
Because of the mushrooms, I do not recommend freezing this particular recipe. Freezing mushrooms changes the texture and may become slightly softer or more tender upon thawing.
Can I use different types of mushrooms?
You can experiment with different types of mushrooms based on your preference or availability. Shitake mushrooms are great in this recipe, but you can also try cremini, portobello, or oyster mushrooms for varying flavors and textures.
Is this recipe soy or gluten-free?
This walnut meat recipe is a soy-free, gluten-free, and non-processed meat substitute.
Does walnut meat really taste like meat?
While it does not taste exactly like meat, it can provide a similar texture and flavor profile that resembles certain meat dishes. The combination of walnuts, mushrooms, and seasonings creates a savory and satisfying taste that can be reminiscent of ground meat. I would say that it has its own unique taste and should be enjoyed for its delicious qualities rather than wanting it to mimic the exact taste of meat.
How do I store walnut meat?
Once cooled, transfer the meat to an airtight container or sealable bag. Place it in the refrigerator and store it for up to 5 days.
Your culinary expertise and commentary are highly sought after, so don't forget to leave a comment and rate it with stars. Follow us on Instagram, Facebook, and YouTube.
Print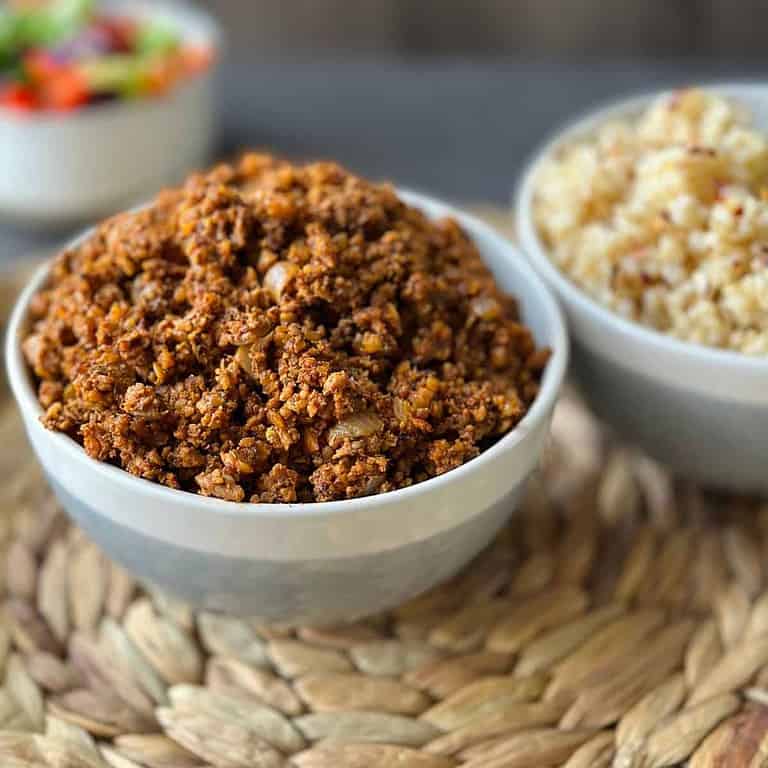 Walnut Meat
Elevate your Taco Tuesdays to a whole new level—our vegan walnut taco meat isn't just good, it's delicious! Packed with crumbly texture and bursting with authentic Mexican spices, this is a plant-based twist you didn't see coming.
Total Time:

20 minutes

Yield:

8

servings

1

x
Walnut Meat
12 ounces

shitake mushrooms (or any variety)

1½ cup

raw walnuts

2 tablespoons

olive oil

1

small onion (diced)

3

cloves garlic (minced)

2 tablespoons

chili powder

1 tablespoons

cumin

2 teaspoon

smoked paprika

1 teaspoon

oregano

1 teaspoon

salt

½ teaspoon

pepper to taste
Instructions
In a food processor, pulse the mushrooms until they resemble a crumbly texture. Be careful not to over-process. Remove and set aside.

Add the walnuts to the food processor and pulse until they resemble a crumbly texture. Be careful not to over-process and make a paste.

Heat the olive oil in a large skillet over medium heat. Add the diced onion. Sauté for a few minutes until the onions become translucent. Add the garlic and saute for a minute or two until fragrant.

Add the chopped mushrooms to the skillet and cook for about 5-7 minutes, or until they release their moisture and start to brown.

Stir in the chili powder, cumin, smoked paprika, oregano, salt, and pepper. Mix well to evenly coat the mushrooms and onions. Cook for another 2-3 minutes to let the flavors meld together.

Add the processed walnuts to the skillet and mix everything thoroughly. Continue cooking for 5 minutes, allowing the flavors to combine and the walnuts to absorb the seasonings.

Taste and adjust the seasoning according to your preference and serve in your favorite taco shells, lettuce, or burrito wraps along with your favorite toppings.

Notes
Nutritional information is only an estimate
. Use a nutritional app like 
Cronometer
 to get information on the exact ingredients and amounts you are using. 
I highly recommend using a food processor. If you try to chop the mushrooms and walnuts finely with a knife, you won't get the same fine texture needed to make this dish similar to ground beef.
Prep Time:

5 minutes

Cook Time:

15 minutes

Category:

main course

Cuisine:

American, Mexican-Inspired
Nutrition
Calories:

205

Sugar:

2

Sodium:

315

Fat:

19

Saturated Fat:

2

Carbohydrates:

9

Fiber:

3

Protein:

5
Keywords: dairy-free sauce, egg-free, healthy meat alternative, meat alternative, meat substitute