The combination of smooth chocolate and creamy peanut butter filling is simply irresistible - after all, they are two great tastes that taste great together. Indulge in vegan peanut butter cups, all while being dairy-free!
These peanut butter cups are one of the easiest and most delicious recipes to make at home. Whether you are a beginner or an experienced baker, you can totally make this classic treat. Some of the easiest recipes can bring the greatest joy.
Jump to:
Are peanut butter cups vegan?
Traditional peanut butter cups, such as the popular brand Reese's, are not considered vegan because they contain dairy products, specifically milk chocolate. Milk chocolate is made with milk or milk powder derived from animals. However, did you know that Reese's is now making a non-dairy version?!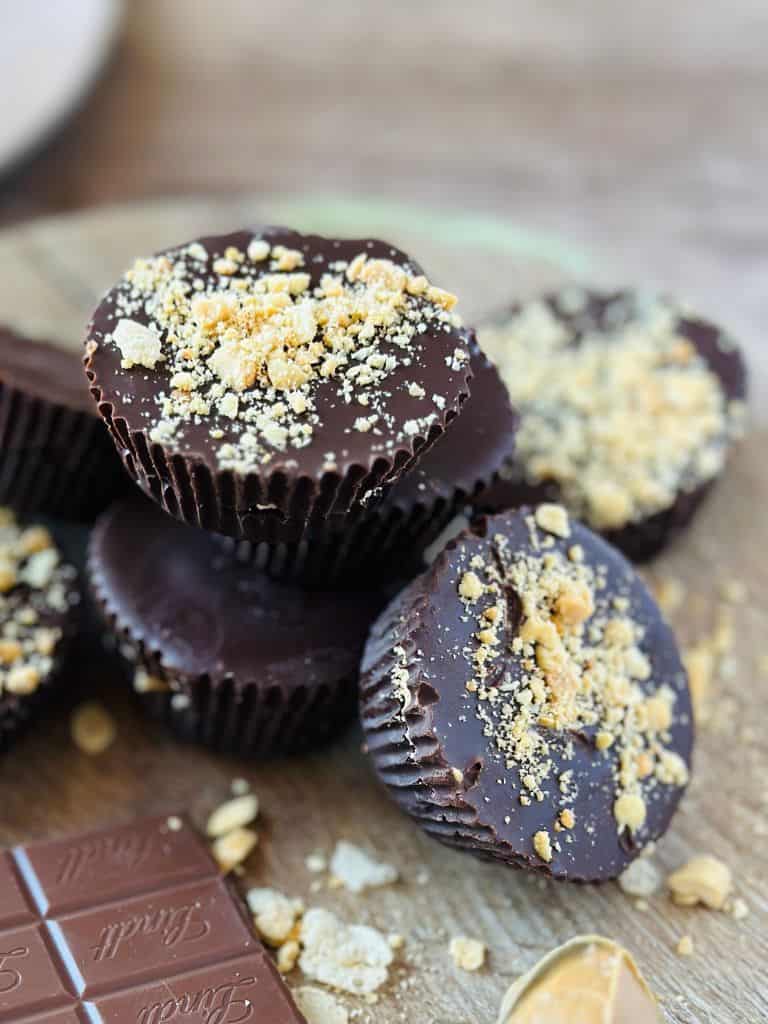 Why should I make PB cups at home?
With many store-bought brands now making vegan peanut butter cups, you may want to make them at home for a few reasons.
It's fun!: Making these at home can be fun and creative. It's a great activity to do with younger children. Additionally, you can experiment with different shapes, sizes, and decorations, adding a personal touch to your homemade treats. My kids loved making them and still do!
You have complete control over the ingredients used when you make vegan peanut butter cups at home. You can choose high-quality, organic, fresh, less sugar, and all-natural ingredients.
Customization: Making these at home allows you to customize the flavors, textures, and fillings. You can experiment with different nut butter types and add ingredients like coconut shreds or dried fruits to create unique flavor combinations.
Allergen-Friendly: If you or someone you know has specific food allergies or sensitivities, making vegan nut butter cups at home ensures they are safe to consume.
Homemade PB butter cups can be more cost-effective than store-bought options, especially if you buy ingredients in bulk or on sale.
Are there any health benefits of vegan peanut butter cups?
While delicious, they are not necessarily associated with specific health benefits. However, there are potential considerations to keep in mind:
Compared to non-vegan versions, these vegan peanut butter cups do not contain dairy, which means they are cholesterol-free and have lower saturated fat content. High cholesterol and saturated fat intake have been linked to an increased risk of heart disease.
You can make your homemade versions with natural peanut butter and dark chocolate. Natural peanut butter (just peanuts in the ingredients) is a good source of protein, healthy fats, fiber, and vitamins and minerals like E, magnesium, and potassium. Dark chocolate, especially with high cocoa content, can provide antioxidants and minerals like iron and magnesium.
Depending on the ingredients you use, there is the potential for reduced added sugars.
It's important to note that while vegan peanut butter cups may have some potential benefits, they are still a sweet treat and should be enjoyed in strict moderation for a healthy balance.
Ingredient Overview
Chocolate: Expand your options beyond dark chocolate. There are numerous delicious choices, from Lindt's oat milk chocolate bars to Enjoy Life's delightful semi-sweet chips.
Planta Coaching Tip: Chocolate chips are more cost-efficient than buying bars.
Nut butter: Choose any nut butter that fits your dietary needs and whether you want a natural or already sweetened version. If you choose a natural peanut butter with no added sugar, consider adding a sweetener like maple syrup and a dash of vanilla for a little natural sweetness.
Making Vegan Peanut Butter Cups
Melt the chocolate
Begin by melting your dairy-free chocolate using a microwave-safe bowl (or a double boiler). Melt it briefly, stirring in between, until the chocolate is smooth and fully melted. After the first minute in the microwave, I stir every 20 seconds until creamy and smooth.
Add the first layer of chocolate
Line a muffin tray with paper or silicone cupcake liners. Spoon a small amount of chocolate into the liners - about 1 tablespoon - ensuring the bottom is evenly coated but not too thick (or you'll end up with super thick PB cups that will require jaws of steel to conquer) and not too thin or you'll be left with lackluster treats that make you go, "Meh."... channel your inner Goldilocks here.
Place the tray into the freezer for 10 minutes until the chocolate hardens.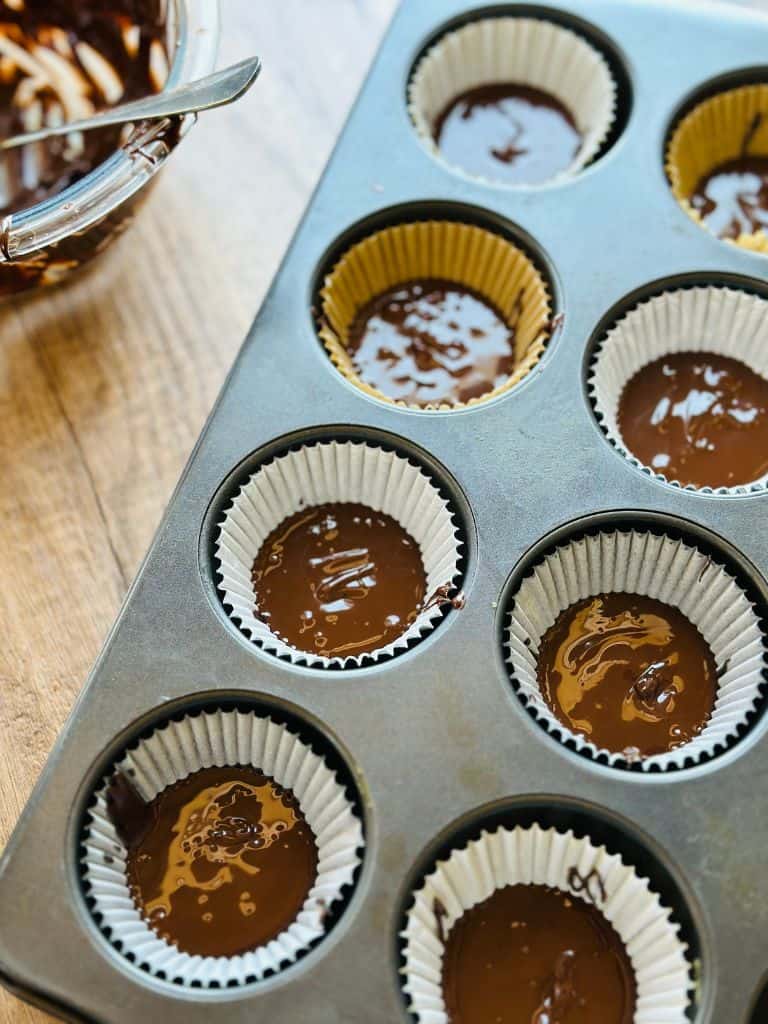 Assemble the cups
Remove the tray from the freezer.
Place a dollop of the peanut butter filling (about the size of a marble) onto the chocolate layer, gently pressing it down to create a smooth and even surface. Add additional ingredients like crushed peanuts, rice puffs, or coconut shreds if used.
Add the top layer of chocolate
Next, cover the filling with another layer of melted chocolate, ensuring it fully encases the filling. Top with extra crushed peanuts or coconut shreds.
Place in the freezer again for another 10 minutes to set.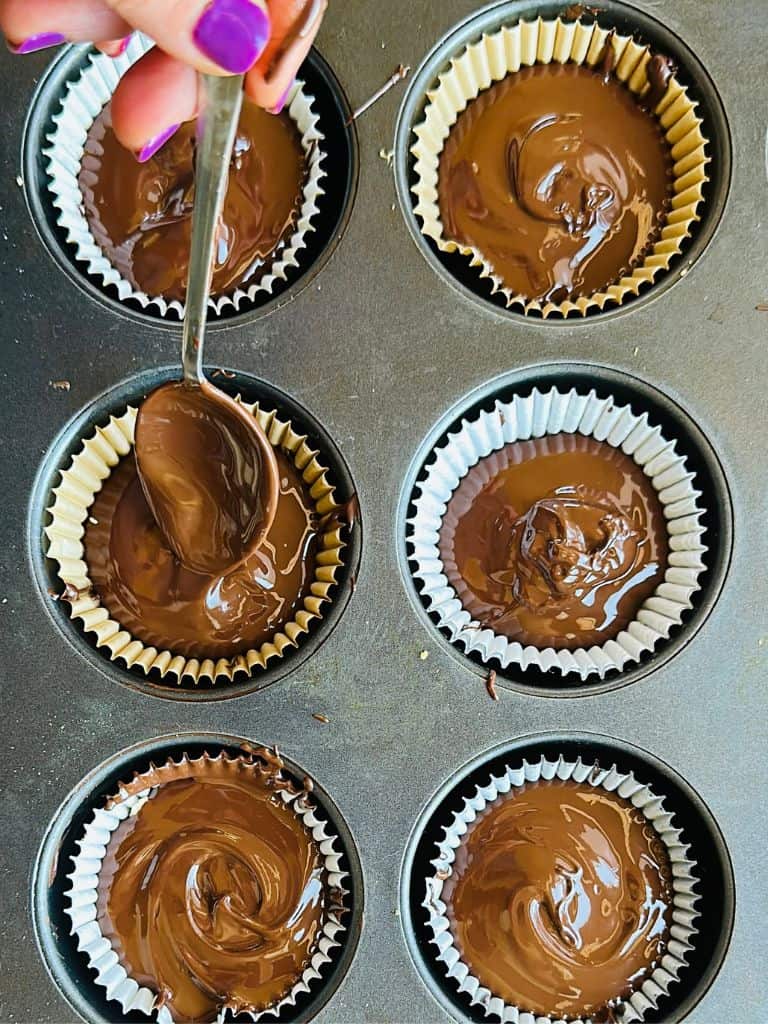 Enjoy!
Once set, remove the cups from the freezer. You can let it sit for a few minutes so it softens a bit.
Remove liners and enjoy the flavors of your homemade vegan peanut butter cups!
Ahh, "peanut butter and chocolate together at last." ...I had to say it. So nostalgic.
Want more sweet treats? Try these:
Tasty Experiments
While peanut butter is a classic choice, you can experiment with nut butter like almond butter, cashew butter, or even hazelnut butter.
Life is too short to stick to one type of vegan chocolate. Try different varieties like dark chocolate, semi-sweet chocolate, or flavored chocolate bars like mint or orange-infused chocolate. Gone are the days of limited options.
Incorporate additional fillings. Add a sprinkle of sea salt, mix in crushed pretzels for a salty crunch, or add a dollop of raspberry jam for a fruity surprise.
Get creative with toppings and decorations. Sprinkle coconut flakes or cacao nibs on top for added texture. You can also drizzle melted vegan white chocolate or create decorative swirls with dark chocolate.
Instead of the traditional cup shape, experiment with different sizes and shapes. Make mini peanut butter cups using small molds or create peanut butter-filled chocolate balls for a bite-sized treat.
Tips for storing pb cups
Refrigeration: Refrigeration can help keep them firm. Place them in the refrigerator in an airtight container or cover them tightly with plastic wrap. Allow them to come to room temperature for a few minutes before serving.
Freezing: To extend the shelf life of your vegan peanut butter cups, you can also freeze them. Wrap each peanut butter cup individually in plastic wrap or place them in a single layer in an airtight container or freezer bag. They can be stored in the freezer for up to a few months. Thaw them in the refrigerator or at room temperature before serving.
FAQs
Can I use different nut butter instead of peanut butter?
Feel free to experiment with almond, cashew, or other nut butter for unique flavor variations.
Can I substitute dairy-free chocolate with carob for a healthier alternative?
For a healthier alternative, consider substituting carob for dairy-free chocolate. This swap not only provides a similar taste but also offers added health benefits. Carob provides a naturally sweet, caffeine-free option for those with a different flavor profile.
How long do homemade vegan peanut butter cups last?
When stored in an airtight container in the refrigerator, homemade vegan peanut butter cups can typically last up to two weeks. Enjoy them within this time frame for the best taste and texture.
Can I freeze homemade vegan peanut butter cups for later enjoyment?
Freezing homemade vegan peanut butter cups is a great way to extend their shelf life. Ensure they are properly wrapped or stored in an airtight container to prevent freezer burn.
How do I serve homemade vegan peanut butter cups?
Vegan peanut butter cups are delicious when served at room temperature or slightly chilled. This allows the flavors to develop fully and the filling to become creamy. If the peanut butter cups were refrigerated or frozen, let them sit at room temperature for a few minutes before serving to allow them to soften slightly. Your teeth will thank you for it.
Your culinary expertise and commentary are highly sought after, so don't forget to leave a comment and rate it with stars. Follow us on Instagram, Facebook, and YouTube.
Print
Vegan Peanut Butter Cups
The combination of smooth chocolate and creamy peanut butter filling is simply irresistible - afterall, they are two great tastes that taste great together. So here is a delicious dairy free version!
Total Time:

12 minutes

Yield:

10

-

12

cups

1

x
2

bags dairy-free chocolate chips (You probably will not use all the chips; they come in

9

-

10

oz bags depending on the brand)

¼

cup

peanut butter

¼

cup

crushed peanuts (optional)

¼

cup

puffed rice cereal (optional)
Instructions
Line a muffin tin with 12 paper or silicone cupcake liners.
In a microwave-safe bowl, melt one bag of chocolate chips. Heat the chocolate in 20-30 second intervals, stirring in between, until fully melted and smooth (around 2 minutes).

Spoon about 1 tablespoon of melted chocolate into the bottom of each cupcake liner, ensuring the bottom is fully covered but not too thick.

Place the muffin tin in the freezer for about 10 minutes to allow the chocolate to set.
If needed, melt more chocolate chips in the microwave bowl. (you probably won't need all of the second bag, so work in batches)
Remove the muffin tin from the freezer and place approximately 1 teaspoon (the size of a marble) of the peanut butter mixture into each cup on top of the hardened chocolate shell.

Add any additional ingredients if using.
Then, spoon more melted chocolate over the peanut butter filling, ensuring it covers entirely. Smooth the tops with the back of a spoon. Top with crushed peanuts if desired or see post for other options.

Place the muffin tin back in the freezer for 10-20 minutes or until the chocolate has fully hardened.
Once set, remove the peanut butter cups from the muffin tin and let sit for a few minutes on the counter to soften ever so slightly. Enjoy!

Notes
If using natural peanut butter or unsweetened nut butter, consider adding a tablespoon of maple syrup for some natural sweetness. 
The ingredient amounts listed may vary depending on how much of each ingredient you use, so make sure to have a little extra for each ingredient in case you need more. 
Make sure the bottom of your pb cup is a thi layer. Your teeth will thank me. 
Nutritional information is only an estimate. Use a nutritional app like Cronometer to get information on the exact ingredients and amounts you are using. 
Prep Time:

2 minutes

Chill:

10 minutes

Category:

Dessert

Cuisine:

American

Diet:

Vegan
Nutrition
Serving Size:

1 cup

Calories:

52

Sugar:

1

Sodium:

36

Fat:

4

Saturated Fat:

1

Carbohydrates:

2

Fiber:

1

Protein:

2

Cholesterol:

0 mg
Keywords: high protein, quick dessert, vegan chocolate
Craving More Nuts & Twigs?