This vegan apple crisp is the epitome of comfort and warmth, with tender spiced apples nestled beneath a sweet, buttery, crisp oat topping.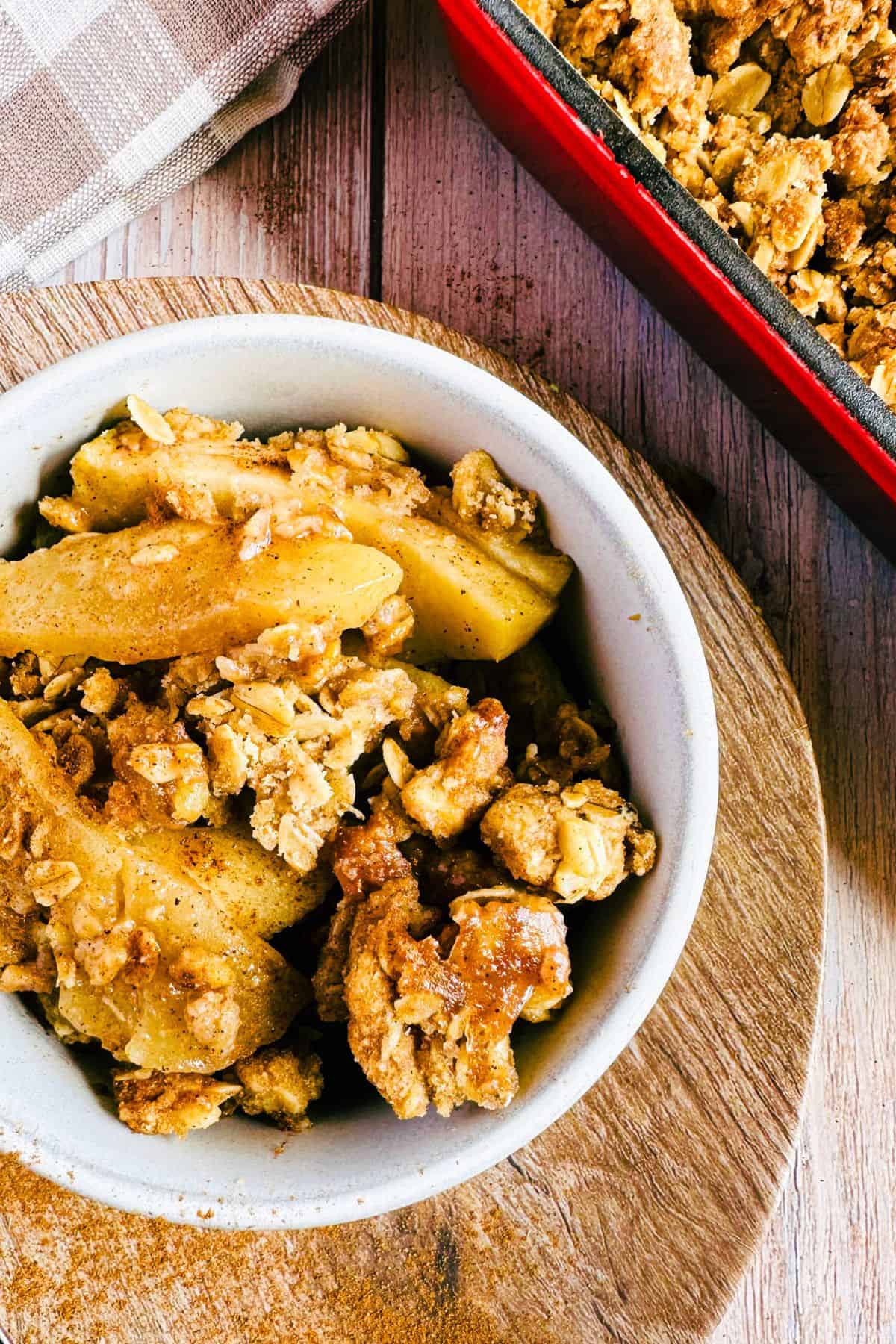 Don't wait until apple season! You can make this any time of year with apples from the store. And it's like traditional apple crisp except with one little thing swapped out - butter. We add vegan butter, which tastes just like regular butter, to make this a vegan-friendly dessert that everyone can enjoy.
Serve it hot from the oven with a scoop of vegan vanilla ice cream, and you've got a dessert everyone will stand in line for.
It's perfect for get-togethers and simple to make any time of the year but be careful leaving it out on the counter. People will pick at the delicious topping as they walk by, leaving your apple crisp topless.
Jump to:
Why You'll Love This Recipe
It's delicious for the fall and holidays, but you can enjoy it any time of the year.
It's so easy to make vegan, I have to say it again. This is a traditional apple crisp, just swap out the butter with vegan butter (which tastes exactly the same by the way - no one can ever tell!).
This dessert uses all the apples you were hoping to eat this week;)
It satisfies your sweet cravings.
It's a crowd-pleasing dessert that is sure to be a hit among your family and friends.
Easy to make, requiring minimal effort and basic pantry staples.
It's much easier to make than an apple pie and you can still get that delicious aroma all around the house.
The smell of freshly baked apples and delightful spices fills your home, creating a warm and cozy vibe. It's like a favorite scent, carved into your memory as a precious "core" memory for your family - just like my daughter would say.
It's freezer-friendly - you can bake a larger batch and store individual portions in airtight containers.
Difference Between An Apple Cobbler, Crumble, And Crisp
Do you use these interchangeably? I used to but I want you to be smarter than me. Here's the difference between these three, "same but different" desserts.
Apple Cobbler: A cobbler has a thick, biscuit-like topping on the apples. It's soft and fluffy, and it looks a bit like cobblestones.
Apple Crisp: An apple crisp has a crunchy topping made with butter, flour, sugar, and often oats. It's called a crisp because the top gets nice and crispy when baked.
Apple Crumble: A crumble is like a crisp but without the oats. It has a sweet, crumbly topping made with butter, flour, and sugar. It's softer than a crisp but not as doughy as a cobbler.
Variations
While this simple vegan apple crisp is already a winner, you can personalize it to match your preferences.
Rather than baking the crisp in a big dish, you can divide the apple mixture and crumble topping into individual ramekins or oven-safe dishes. Just adjust the baking time to around 20-25 minutes since individual servings cook quicker. I love doing it this way for better portion control.
Try mixing and matching different apple varieties. For the tastiest results when baking, go for apples like Golden Delicious, Honeycrisp, Pink Lady, and Granny Smith that won't turn to mush - I prefer less tartness, and more sweetness in my apple crisp so I often just use Honeycrisp.
Make it with a different flour of your choice. If you're gluten-free, try your favorite gluten-free flour or almond flour for a great substitute.
Serving Suggestions
This Apple Crisp is absolutely delightful by itself. But you know what would take it to the next level? Serving it with a few yummy toppings!
Vegan Ice Cream: A scoop of creamy vegan vanilla ice cream on top of warm apple crisp creates a heavenly contrast of temperatures and flavors. This is my favorite way of eating it, in case you were wondering.
Coconut Whipped Cream: Enjoy the lusciousness of coconut whipped cream on this dessert because, well, who doesn't like whipped cream?!
Maple Syrup: Drizzle some maple syrup over the crumble for extra sweetness and a glossy finish.
Consider pairing it with a drizzle of vegan salted caramel sauce, a dollop of almond or cashew butter, or a sprinkle of toasted coconut flakes for added deliciousness.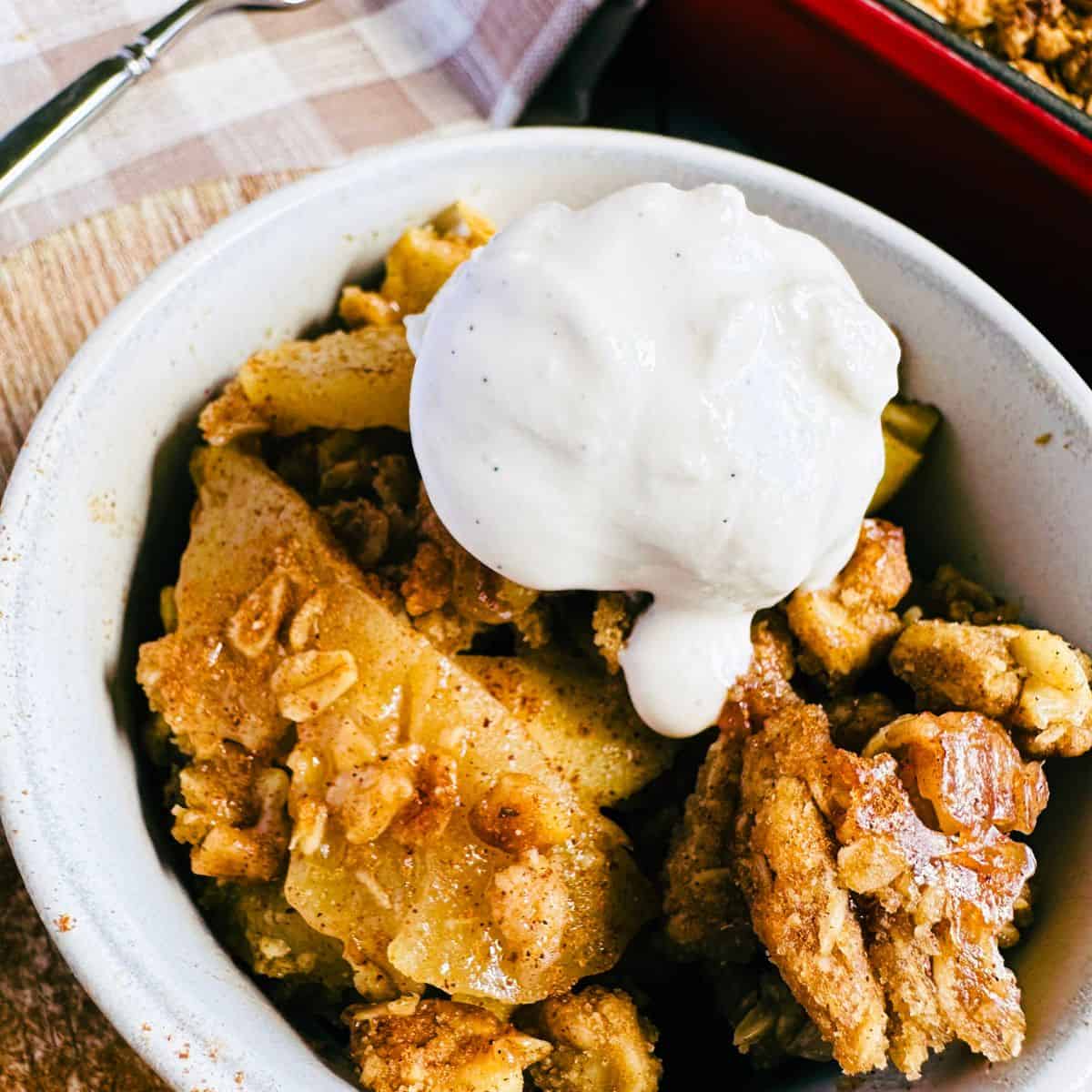 Ingredients
For the Filling:
apples - using a mix of sweet and tart varieties like Granny Smith and Honeycrisp is perfect as they hold up well to cooking but pick your favorites. No need to use more than one kind if you don't want to.
organic sugar - organic sugar is usually processed without bone char, making it a vegan-friendly option.
all-purpose flour - substitute any flour you have on hand - almond flour works well.
lemon juice brings a touch of tartness to balance the flavors.
cinnamon, ground nutmeg, and ground ginger provide warming spices that enhance the apple's natural taste and make your house smell like heaven.
I love apple crisp to have a slightly gooey and caramelized nectar that binds the apple slices together, so I usually thicken it up with a cornstarch and water slurry (arrowroot starch is a solid alternative to cornstarch).
don't forget the pinch of salt - it helps to elevate all the other flavors
For The Crisp Topping:
rolled oats
all-purpose flour (or any nut flour for a gluten-free version)
brown sugar (or coconut sugar)
chopped nuts (such as walnuts, pecans, or almonds)
vegan butter (you can also use coconut oil)
salt - again, elevates the flavor
Instructions
First, a tip: When prepping, leave out the butter for a bit to soften while you get all the other ingredients ready. It will be easier to incorporate it into the topping when it's a little soft. You can also microwave it for a few seconds.
Make the topping: I like to make the crisp topping first so I can place it in the refrigerator to chill while I prepare the apples and filling. I also do this to prevent the chopped apples from sitting out for too long and risk turning brown.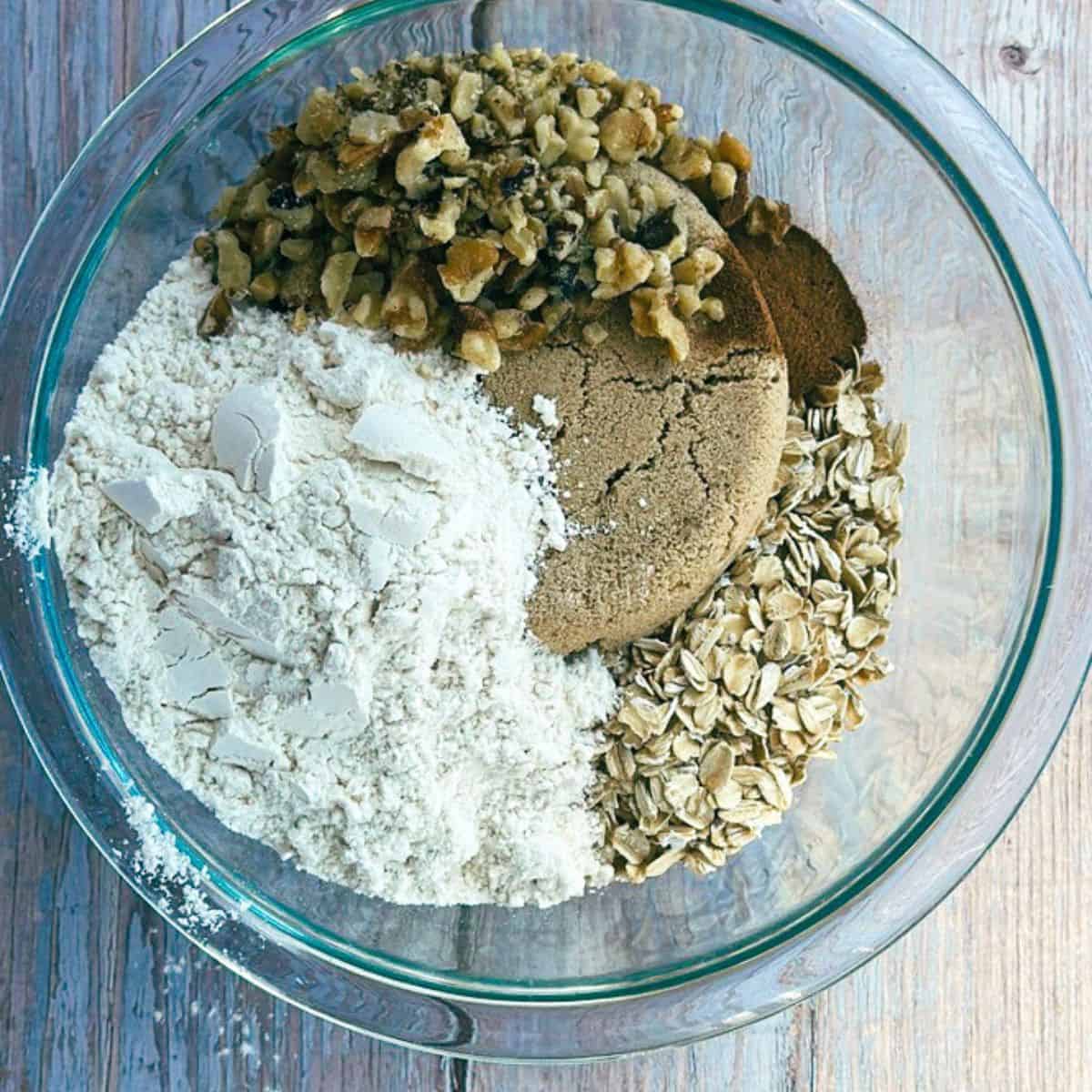 For the topping, combine oats, flour, brown sugar, cinnamon, salt, and nuts until combined well.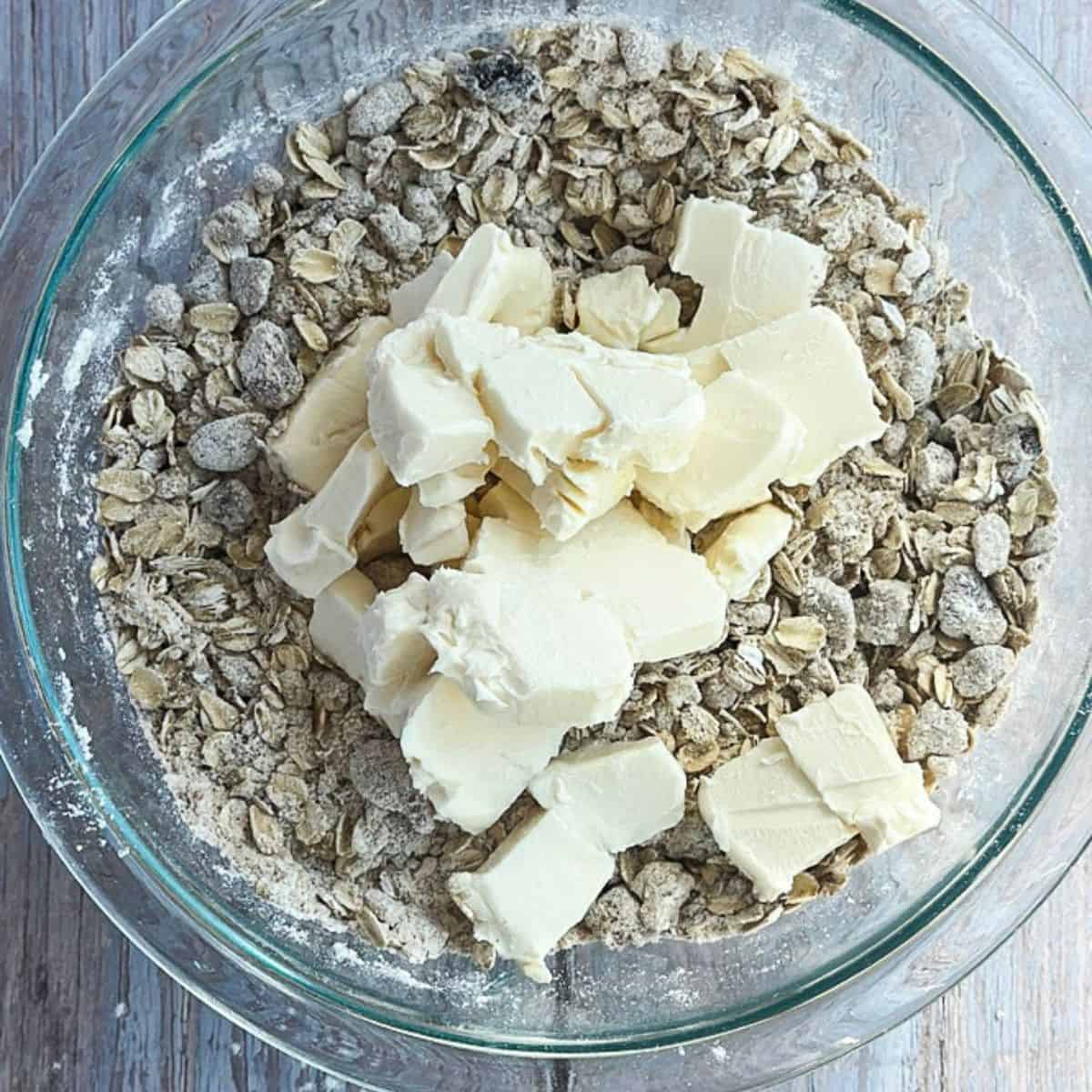 Then cut in the butter and mix everything with your hands until incorporated and crumbly. Place it in the refrigerator to chill while you prepare the filling.
Make the filling: Peel and either thinly slice or chop your apples. Make sure they are evenly sliced or chopped.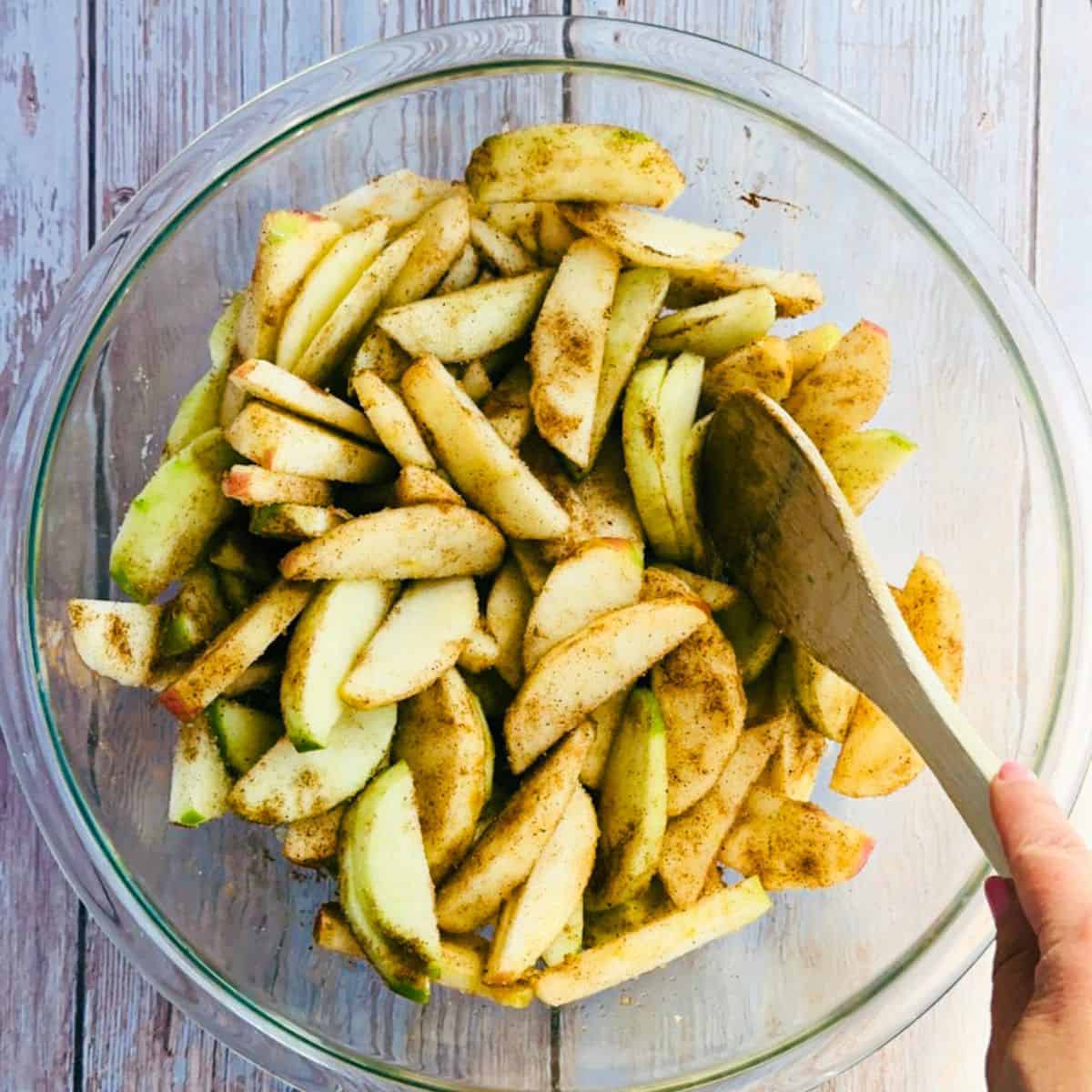 Toss them gently with the sugar, lemon juice, cinnamon, ginger, nutmeg, and a pinch of salt. Don't forget the pinch of salt.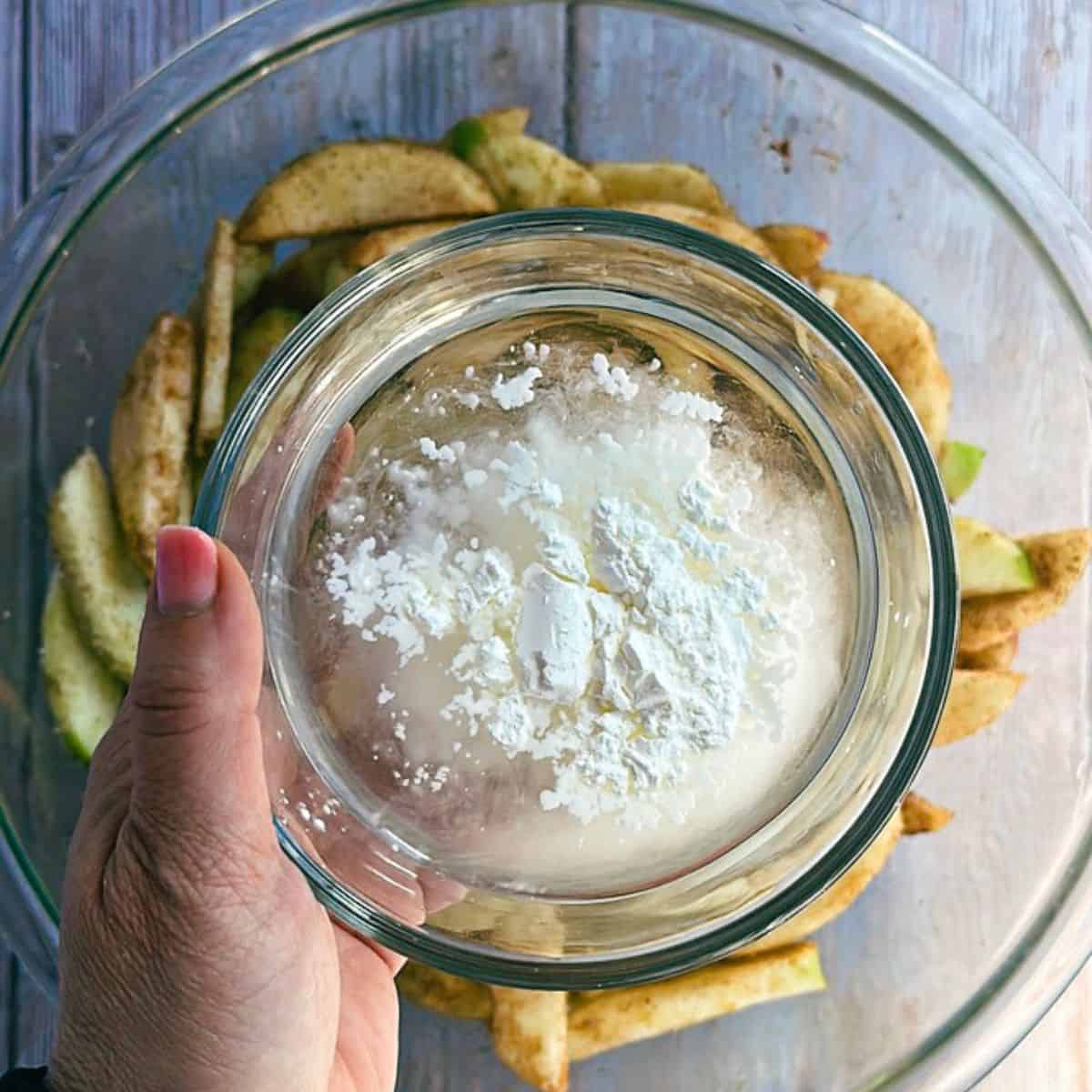 Make a cornstarch slurry by combining the water and cornstarch. Add the mixture and combine with the apples until they are well coated.
Assemble:
Add the coated apples into a prepared baking dish sprayed with a little cooking oil - 9x13 or similar works well for this amount of apples.
Then remove the chilled topping from the fridge. With your fingers, crumble the topping as you sprinkle the top of the apples with the buttery crumbles evenly.
Bake at 350°F (175°C) for 50 minutes to one hour or until golden brown. For those who live in a high-altitude location like I do, you may want to add about 5 more minutes to the cooking time - but check it often so it doesn't burn.
Now take a moment to ponder the timeless question of whether you're a fork or spoon-wielding apple crisp buff. Or perhaps you contemplate the more fundamental issue of whether you prefer enjoying it in a cozy bowl or on a classy plate? Oh, the sweet dilemmas we face. Let's move on.
Remove and let cool before serving warm. See serving suggestions for ways to take it to the next level.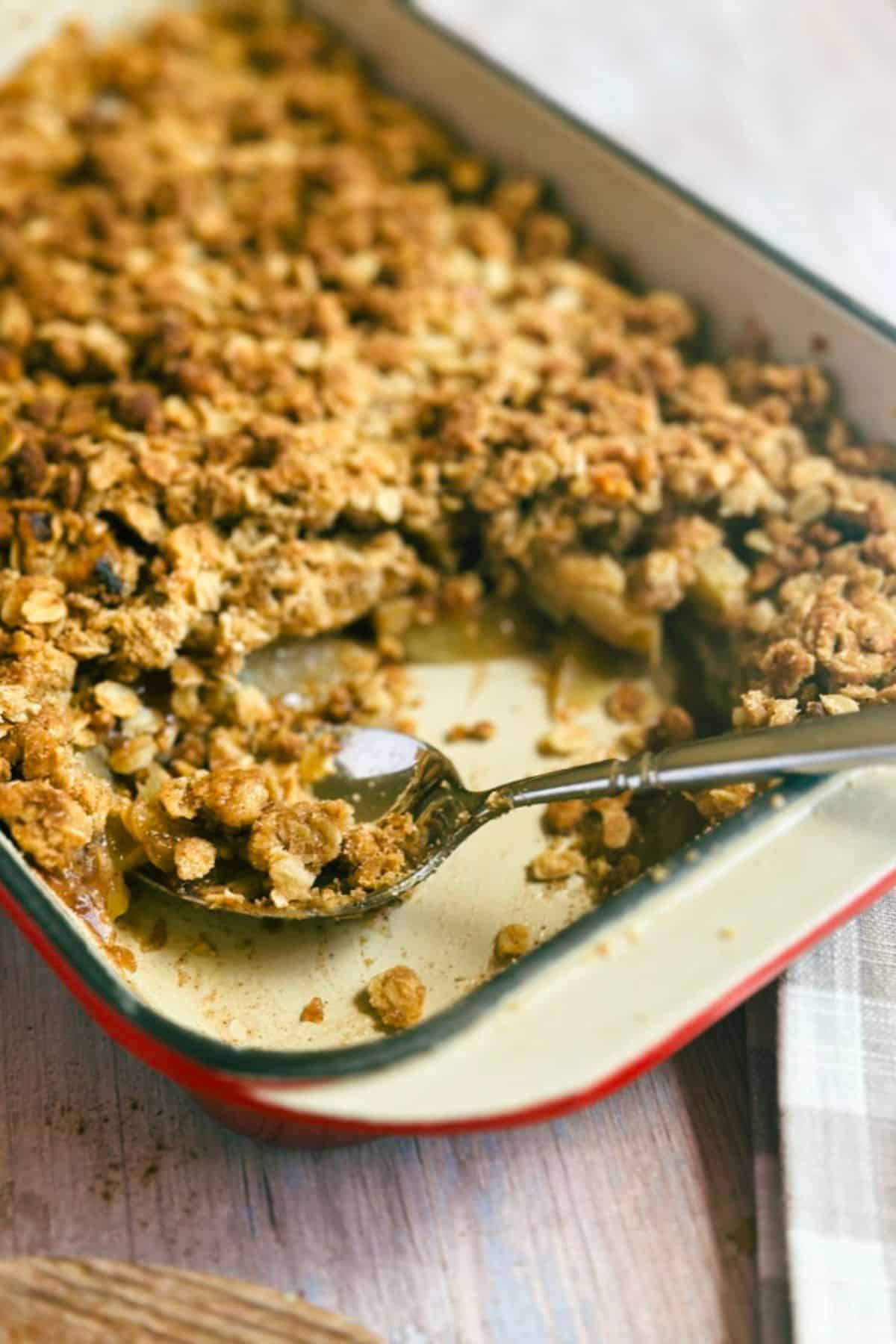 Top Tips
For a vegan apple crisp that turns out deliciously irresistible every time, just follow these handy tips:
Apple Selection: For apple crisp, you'll typically want an apple that holds its shape and offers a nice balance of sweet and tart flavors. Granny Smith apples are a popular choice for their tartness, which contrasts nicely with the sweet topping. Honeycrisp and Braeburn are also great options because of their firm texture and balanced flavor. You can use one kind or have a combination of apples for variety.
Spice It Up: Play with the spices to suit your taste – add a dash of cloves or allspice for a warm, aromatic flavor.
Serving Size: This recipe is easily scalable. Double the ingredients for a larger gathering or place portions in smaller containers for a cozy individual treat.
Make ahead of time: You can make this vegan apple crumble ahead of time and reheat it before serving. It makes for a delicious dessert to enjoy with family and friends anytime!
Make sure the apples are evenly sliced or chopped so they cook through at the same time. You don't want a dessert with some uncooked pieces.
How to store leftover Vegan Apple Crisp
If you have any leftovers, store them in the refrigerator in an airtight container. Reheat in the oven or microwave before serving to restore the delicious warmth and flavor.
Is apple crisp healthy?
Apple crisp can be both healthy and indulgent, depending on how you make it. However, this apple crisp recipe falls under the traditional dessert category and would need alternative ingredients to consider it healthy. The apples themselves are a good source of fiber and vitamins but it contains the mischievous trio of sugar, vegan butter, and flour, which can add quite a few calories and fats.
If you want to make it healthier, you could reduce the sugar, use almond flour, and substitute the butter with less coconut oil. Serving it without ice cream or with a lower-fat alternative like vegan yogurt can also make it a lighter dessert.
FAQs
Is this vegan apple crisp suitable for people with food allergies or dietary restrictions?
This apple crisp recipe is free from dairy, eggs, and animal products, making it suitable for vegans and those with lactose intolerance or egg allergies. It can also be adapted to accommodate gluten-free diets by using certified gluten-free oats, swapping out the flour, and ensuring the other ingredients are gluten-free.
Can I make this recipe in advance and reheat it later?
This can be made ahead of time and reheated when needed. Once baked and cooled, store any leftovers in an airtight container in the refrigerator for up to 3-4 days. When you're ready to enjoy it again, reheat individual servings in the microwave or oven until warm and toasty.
Do I have to peel the apples?
I find the skins to be a bit hard to include in this recipe and prefer a skinless apple for a better texture to my apple crisp. However, you don't have to peel the apples. Leaving the skins on can add texture and color, and some even prefer it for the added nutrients.
Can I freeze the unbaked crisp for future use?
Yes, you can freeze the unbaked crumble topping separately for future use. Prepare the crumble mixture and store it in a freezer-safe container or resealable bag. When you're ready to bake the vegan apple crisp, simply thaw the topping and proceed with the recipe as usual.
Can I use a different sweetener?
You can substitute with sweeteners like maple syrup, agave nectar, date syrup, brown rice syrup, or other sweetener of your choice.
Is apple crisp vegan?
Traditional apple crisp is made with butter but by doing one little swap with vegan butter, you've got yourself a delicious vegan apple crisp dessert everyone can eat.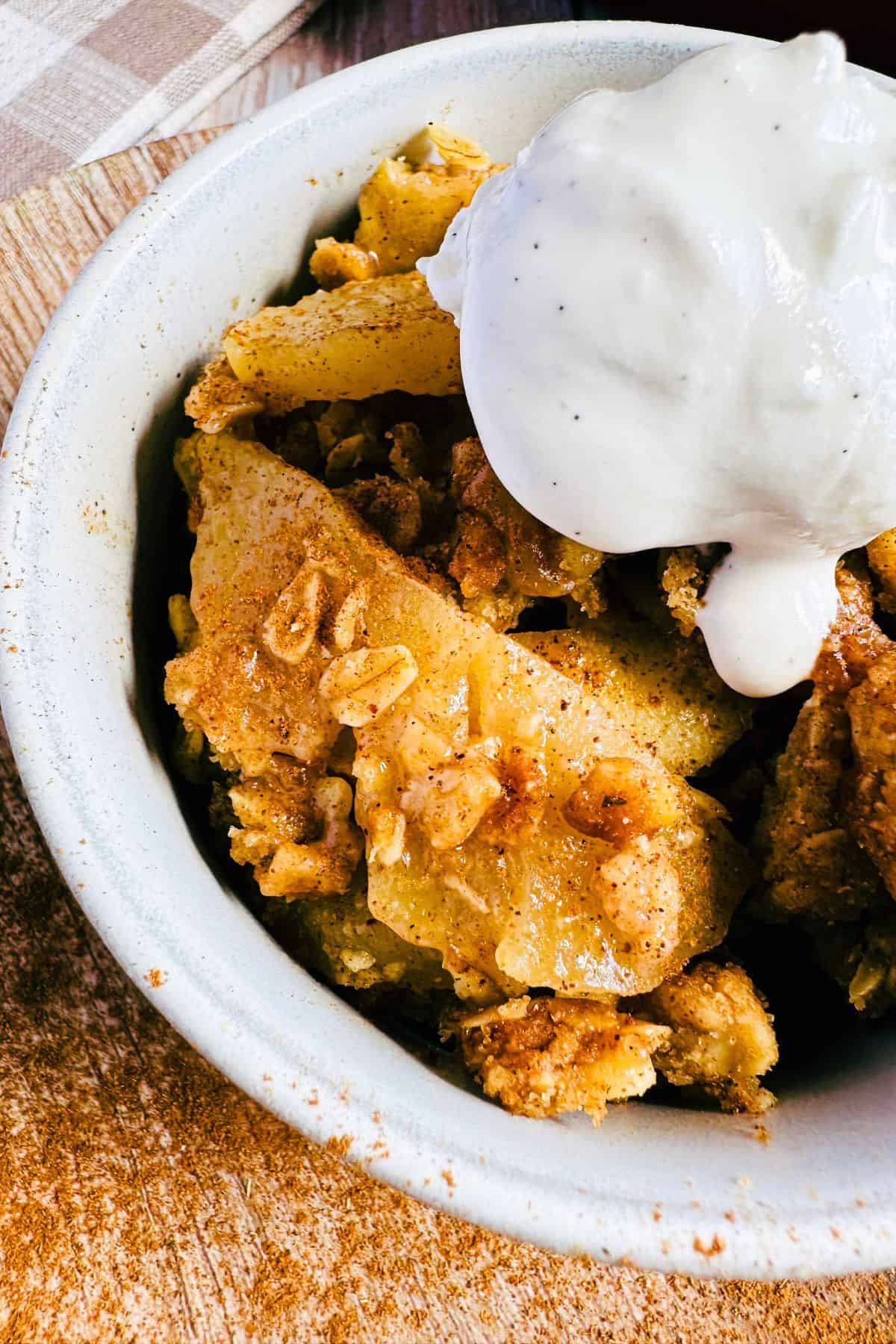 Want more vegan desserts?
Your culinary expertise and commentary are highly sought after, so don't forget to leave a comment and rate it with stars. Follow us on Instagram, Facebook, and YouTube.
Print
Vegan Apple Crisp
This vegan apple crisp is the epitome of comfort and warmth, with tender spiced apples nestled beneath a buttery, crisp oat topping.
Total Time:

1 hour

Yield:

8

servings

1

x
The topping
1 ½

cup

rolled oats

¾

cup

all-purpose flour (or any other flour)

¾

cup

light brown sugar (or coconut sugar)

¼

cup

chopped nuts (such as walnuts, pecans, or almonds)

½

cup

vegan butter (unsalted butter, cold, cut into small cubes)

½ tsp

cinnamon
pinch of salt
The filling
6

medium-sized apples (a mix of sweet and tart varieties like Granny Smith and Honeycrisp, peeled, cored, and sliced)

½

cup

organic sugar

1 tablespoon

lemon juice

1 teaspoon

ground cinnamon

¼ teaspoon

ground nutmeg

¼ teaspoon

ground ginger
pinch of salt

1 ½ tablespoons

cornstarch (or arrowroot starch)

½

cup

water
Optional Toppings
vegan whipped cream
coconut ice cream
apple pie spice
vegan caramel
Instructions
Preheat your oven to 350°F (175°C) and lightly grease a 9x 13 or similar baking dish.
Prepare the crumble topping. In a small bowl, combine the topping ingredients but leave out the butter. Mix well.
Add the butter: Now add the cut butter and use your fingers to mix it all together until it forms a clumpy, moist mixture. Refrigerate and chill while you prepare apples.
Prepare the apples: Combine the filling ingredients except the starch and water in a large mixing bowl. Toss everything together until the apples are evenly coated with the spices and sweetener.
Prepare starch and water: Combine the starch and water, then pour this mixture over the apples. Gently toss the apples with your hands, ensuring they're evenly coated with the cornstarch blend.
Transfer to a baking dish: Transfer the apple mixture to the greased baking dish and spread it out evenly.
Add the topping: Remove the topping from the refrigerator and sprinkle evenly over the apples in the baking dish.
Bake: Place the baking dish in the preheated oven and bake for about 50 minutes to one hour or until the apples are tender and the topping turns golden brown.
Let it cool: Once done, remove the vegan apple crisp from the oven and let it cool slightly before serving.
Serve: Enjoy it warm with a scoop of vegan vanilla ice cream and a sprinkle of apple pie spice. Alternatively, pair it with coconut whipped cream, or savor it just as it is.
Notes
Nutritional information is only an estimate. Use a nutritional app like Cronometer to get information on the exact ingredients and amounts you are using. These estimations do not include optional toppings.
To make this dessert gluten-free, substitute all-purpose flour with a 1:1 ratio of your favorite gluten-free flour. Also, make sure your oats are gluten-free.
You can make this vegan apple crumble ahead of time and reheat it before serving.
If you are using only a sweet variety of apples (no tart variety), I would suggest reducing the amount of sugar to ¼ cup in the filling. The apples will provide enough sweetness. 
Do not use quick oats or instant oats. They will get too mushy for the topping. Rolled oats are the best option.
After the vegan apple crisp cools down, you can wrap the dish in plastic and keep it in the fridge for as long as three days. When you're ready to enjoy leftovers, warm them up in a 350°F oven for about 5 minutes, and the topping will become delightfully crisp again.
Author:

Regi Pearce

Prep Time:

10 minutes

Cook Time:

50 minutes

Category:

dessert, snack

Method:

Oven

Cuisine:

American

Diet:

Vegan
Nutrition
Serving Size:

1 cup

Calories:

387

Sugar:

41

Sodium:

101

Fat:

13

Saturated Fat:

3

Carbohydrates:

67

Fiber:

6

Protein:

4

Cholesterol:

0.2 mg
Keywords: apples, fall, healthy snack, plant-based dessert, fall, autumn, oats, nuts
You May Also Like...